Fashion takes it's inspiration from all facets of life and the latest trend in woman's shoe apparel pays homage to our men and women in service. Designers have managed to take the military combat boot, a seemingly unattractive style, and make it feminine, fun, and fashionable. This post will highlight three combat boot styles, by three different designers, with prices that will appeal to the price conscious shopper, the middle man, and the customer to whom money is no object.
Boot #1 called Wanted Trance is sold by Piperlime and priced at $49.99.This is a lace up military boot that comes mid-calf with a 1-inch heel and decorative buckle details on the side.
Boot #2 called Lucky Brand Blossom is sold on Zappos and priced at $151. This is another lace up military boot with a 1-inch heel that extends a little further up the leg than Boot #1 from Piperlime.
Boot #3 called Joplin Buckled Military Boot by notable designer Michael Kors is sold at Bloomingdale's and priced at $425 but currently on sale for $276.50. This leather boot with buckle details has a 3-inch stacked heel and extends to mid calf.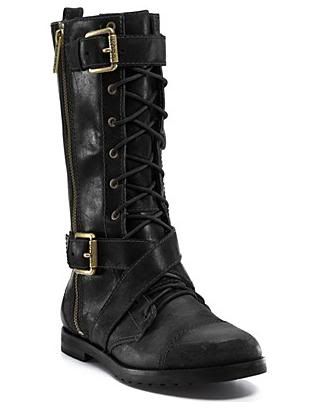 Some may be hesitant to approach this trend out of fear of appearing too masculine, but it is fairly easy to find a nice balance between masculine and feminine by pairing any of the above styles with your favorite sundress or skirt as seen below: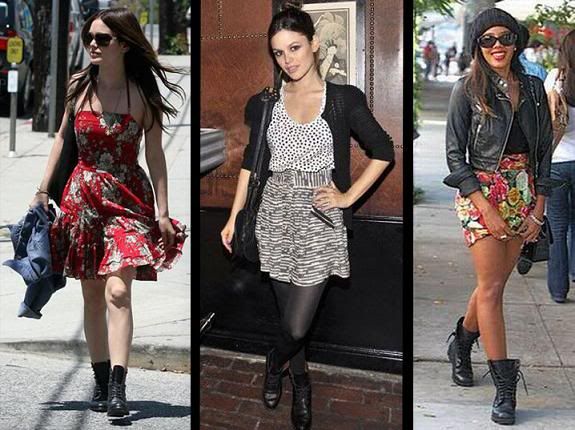 Or you can take it a step further and add another garment reflective of the military trend as the celebrities below did:
One of the best things about fashion is that there's really no right or wrong so whatever you do, just be sure to make the style your own ;-)